Skiing area Hochoetz
in the Ötztal in Tyrol
Welcome to the Bergbahnen Oetz!

Family skiing area: The modern 8-person gondola lifts of the Oetz cable cars take you up to our family-friendly Hochoetz skiing region in just 8 minutes from Oetz and Ochsengarten. There you will find perfectly groomed, spacious slopes of all levels of difficulty, our own kindergarten as well as rustic alpine pastures for your stop. Enjoy the panorama with the view of the snow-covered peaks. So then. Here's to a beautiful and enjoyable ski day. And that many more may follow!

A manageable family skiing area in a sunny location which is completely geared to the needs of families. The skiing area Oetz Hochoetz lies between 1500 and 2200 meters above sea level and is equipped with modern snow-making facilities. Probably the most spectacular accommodation in the Ötztal is located in Hochoetz near Oetz: an igloo in the middle of the Hochoetz ski area.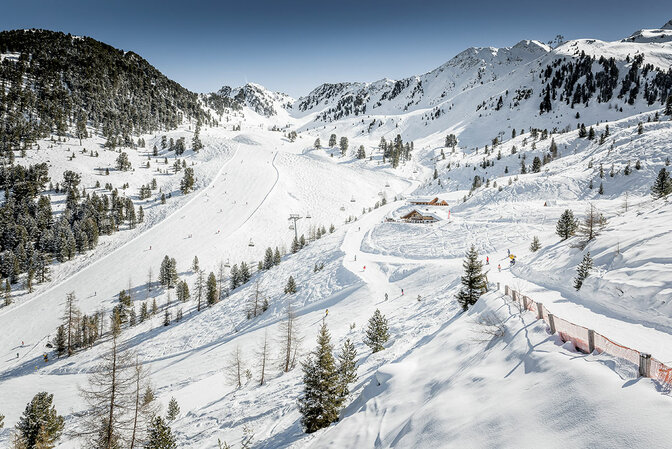 1 ski pass - 2 ski resorts
Experience unlimited skiing pleasure in just one ski pass!

The Hochoetz and Kühtai ski regions already offer the use of both ski areas with the purchase of a day ski pass. The offer promises 80 snow-sure slopes and 24 cable cars. The free shuttle buses take you from Ochsengarten to Kühtai and back every half hour.
Ski-In & Ski-Out in Ochsengarten
Since the start of the 2016/17 winter season, the 8-passenger gondola lift from Sölden has been serving as the new Ochsengarten lift and is therefore an important feeder to the family-friendly Hochoetz ski resort. The Acherkogel and Ochsengarten lifts are therefore two identical Doppelmayr lifts offering spacious cabins, extremely smooth running, barrier-free access and wind stability. With almost double the capacity, 2,520 people/hour now travel from Ochsengarten to the Hochoetz ski area.
With the 2016/17 winter season, additional snowmaking equipment was purchased in the Hochoetz ski area and now offers snow reliability with 89 cannons and lances as well as snow guarantee for perfect skiing enjoyment.

Practical ski-in & ski-out for your skiing vacation: Ochsengarten offers the only valley run that leads directly to the accommodations. Thus, your ski day begins and ends directly in front of your door.

Free night skiing in Ochsengarten
Every Tuesday the free night skiing takes place in Ochsengarten from 20.00 to 22.00 o'clock.

New in summer
With the Ochsengartenbahn you can get directly to the hiking region Hochoetz every Tuesday, Thursday and Sunday in summer from the beginning of July to mid-September. The hiking region offers hiking fun for the whole family and includes, among other things, the adventure land Widiversum in Hochoetz.